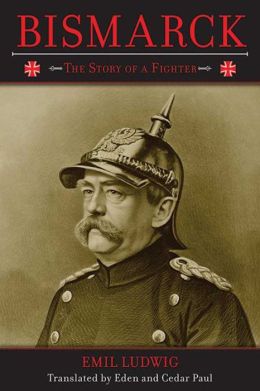 At the last meeting of the History Book Club, we discussed a number of possible books to read in the future and agreed on selections for July and August. We then quickly added
Bismarck: The Story of a Fighter
by Emil Ludwig, Eden and Cedar Paul (Translator). The discussion of the book would be for September.
We had failed to notice that the book was first published in 1926. The book is also 703 pages -- much longer than our usual choices. 635 pages are text, the rest is an index. There seem to be no notes. While Barnes and Noble is distributing a reprint on paper, the book is available in a number of electronic forms free of charge.
The person who suggested this book wrote to me saying:
I had picked up the book in Barnes and Noble, but in investigating online I find that a more recent book on Bismarck, titled " Bismarck, a life" is by Jonathan Steinberg, who was professor of modern Europian history at the University of Pennsylvania, received a good New York Times review, is easily available and about the same length. Emil Ludwig died in 1948; it is not clear to me why Barnes and Noble had it rather than the Steinberg in their biography section. I suggest we revisit the September selection at the next meeting. I apologize for my making a hasty
The Steirberg biography is 582 pages and was published in 2011, A second member wrote that she is currently reading the Steinberg biography and recommends it. A third member mentioned that
Bookfinder
allows users to search online used book providers and obtain books at lower prices, especially useful for older books.
Answer the following poll to express your preference. (Click on the
red x
in the upper left hand corner if an add appears on the questionnaire.)